Located in Cannes, Provence-Alpes-Cote D'Azur, Le Palais Vénitien is inspired by Byzantine and Venetian architecture. Built in 1990, the 32,291 sq. ft. estate features nine bedrooms, twelve full baths, and 6.18 acres.
This beautiful property offers stunning views of Cannes and the Mediterranean. To the east stand the Iles de Lérins; to the south, the deep-blue Mediterranean; to the west, the Gulf of La Napoule and the Estérel mountains; and to the north, the conservation land of Croix des Gardes, and snow-capped peaks. It includes a private lake filled with exotic fish and plants, a tennis court, secluded woodlands, beautifully landscaped gardens, and an 82 ft. pool with a whirlpool spa.
The Venetian-style interiors feature classical Roman columns and delicately molded cornices. Cogemad, responsible for the sumptuous design, drew inspiration from Palladio's finest masterpieces. Every detail was thought-out to provide a feeling of comfort, luxury, and pleasure.
On the garden level, there is an entrance hall and triple reception. The fully-equipped master kitchen boasts La Cornue appliances. On this level, you'll also find four residential rooms with en-suite bathrooms and closets, a private living room, a patio, and a service living area that includes three bedrooms, two bathrooms, and a kitchenette.
Next to the patio is the heart of the palace, the winter garden. It offers relaxed dining and seating options thanks to its more casual and informal atmosphere. The room, with floor-to-ceiling glass windows and skylights, is bathed in natural light throughout the day, providing 360° views of the park, the Alps, the outdoor pool, the lake, and the bay of Cannes.
The first-floor master suite contains two bathrooms, two walk-in dressings, and a private living room. In addition, there are six bedrooms, a second kitchen with a breakfast room, two private lounges, and four terraces with unbeatable mountain and sea views.
The basement contains a fully equipped laundry room, an 8-car garage, technical rooms, cellars, a safe room, and an additional service bedroom with a kitchenette.
There are cutting-edge technology systems to control the lights, music, air-conditioning, A/V, and security systems throughout the house. The property also contains a cinema, a nightclub, a gym, a wine cellar, a relaxation room, and an elevator. The spa includes a sauna, a steam room, a 15 m swimming pool, and a jacuzzi. Outside, you'll find a barbecue area, sunbath lounges, dining areas, an island terrace, and guest parking spaces.
If that weren't enough, there is a treetop obstacle course, a vegetable garden, an independent caretaker villa, a security lodge with an adjoining service apartment, and extra technical rooms.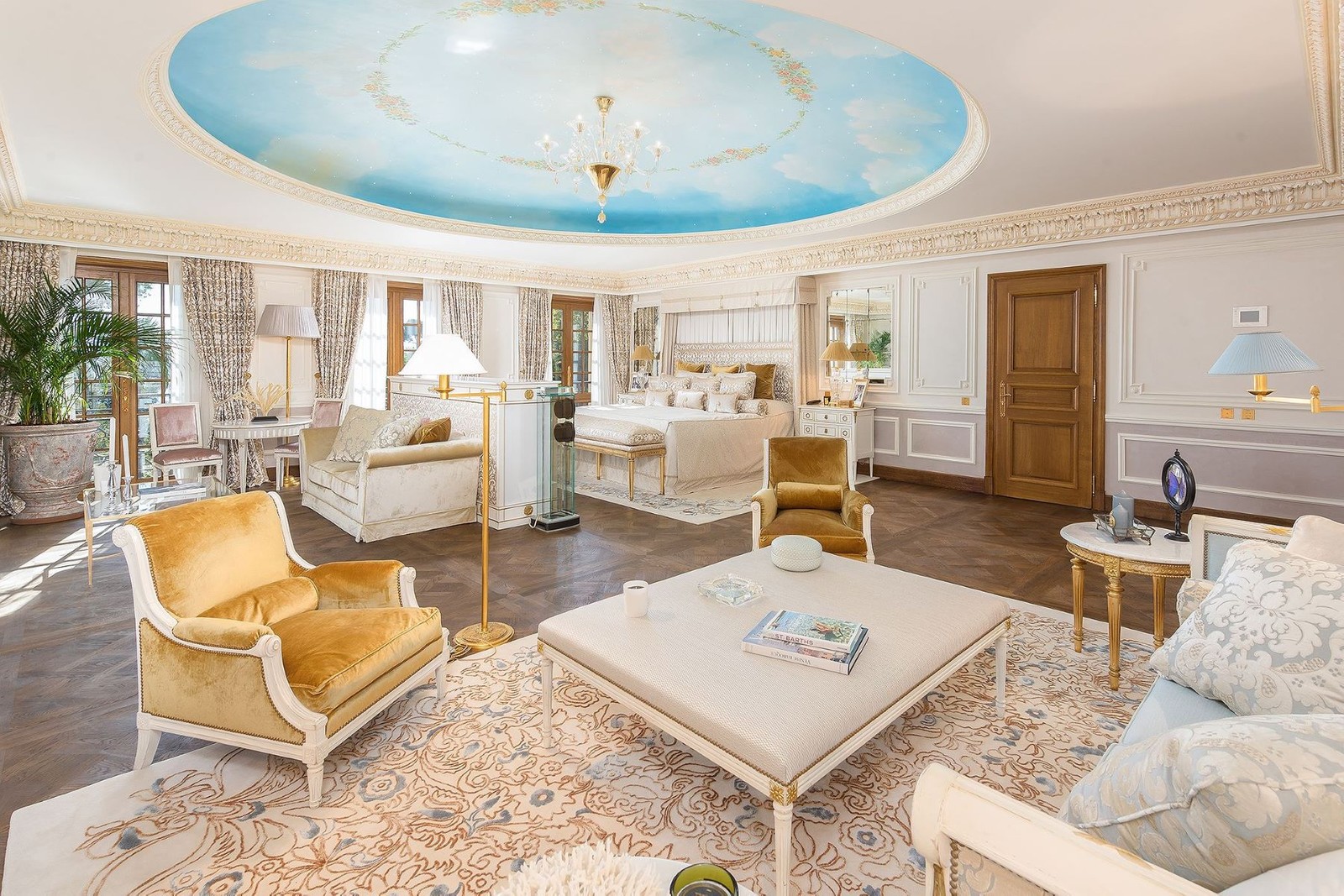 For more photos of this beautiful property click here!