Kylie Jenner recently revealed her newest mansion from architect Gala Asher, a $37M compound in Holmby Hills. Shortly afterwards, ex-partner and baby daddy, Travis Scott, decided to follow suit with this $23.5 million purchase.
Travis Scott, born Jacques Berman Webster II, is a hip-hop/pop artist from Houston, Texas-- home of the chopped and screwed. If you haven't heard of him, you've heard his music whether you wanted to or not. We'll let his titanic career speak for itself. Although his new home could also speak volumes about itself, and Scott, we'll make that introduction for you.
Scott's new estate is 16,700-sq-ft, and has sat above Crestwood Hills ever since it's construction last year. This post-modern was built with poured concrete and glass, and feels like a classic futurist's take on what contemporary means.
The hillside monolith opens up in the back to exceptional views, and three levels feature retractable glass along the entire back wall to let those views in. The lower level has a list of amenities: a full home theater, a wine cellar, a gym, accompanying sauna, and a glass ceiling underneath the pool for extra cool points.
The interior's ornamental and structural features accentuate what the designer was going for very well. The light fixtures throughout were picked meticulously for the affect they have on their area, and many small features also serve to change the whole space they exist in. The wooden divider in the ground floor living room takes a piece of the open layout, makes it a separate and, if there were a party going on, tranquil area away from the chaos it sits in.
The Escheresque hardwood floors were a mistake, sure, but they go to show that textures and patterns were carefully considered. The square-sectioned driveway-- Italian marble divided by grass-- attests to that, and goes a long way in setting this property apart. The two elevators also do a great job at this, but so does the master bedroom's walk-in closet. That space alone outperforms most Boston studios.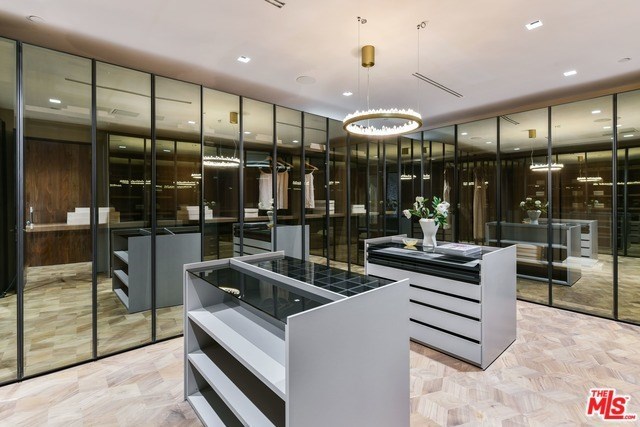 The lot is over an acre and features this beautiful home, a 20-car gallery, and a custom 70ft glass-bottomed infinity pool stuck between the first and second floors. You'll find this home in Brentwood, one of the most coveted neighborhoods in the area. You might recognize the house by its 400 sq. ft. Zen garden by the orchard of 300 fruit trees.
Scott purchased this property in cash. $23.5M was a steal compared to the listing price of $42M from last summer. The price had changed since, but he still got a $7M discount. You can see the photos below.