tech
Cabot, Cabot & Forbes has applied to bring over three hundred units of rental housing are coming to 135 Wells Avenue. If built, the Manchester - the proposed 40B project - will be the largest of its kind in Newton history.
Chapter 40B is a state law designed to address the shortage of affordable housing in Massachusetts by encouraging new mixed-use and residential developments in exchange for at least 20 to 25 percent of the units being affordable to low- and moderate-income residents. Two hundred and fifty of the new units will be rented at market rate, and 84 will meet affordable income standards. Only 7.5 percent of Newton's housing is currently in the recognized affordable range. Communities below the state standard of ten percent are subject to Chapter 40B.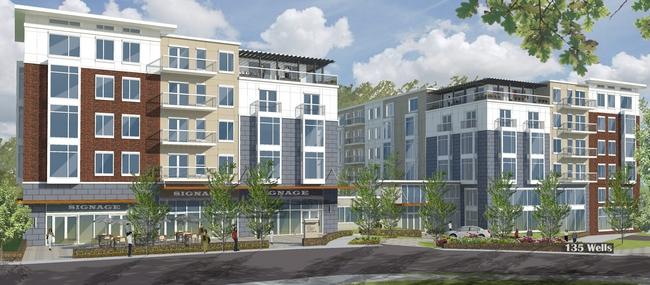 "The 135 Wells Avenue project is deliberately designed to appeal to young, technology-oriented professionals and innovation-related workers," say the developers. The project will feature smaller apartments, as well as a cafe and a co-working space operated by Workbar. It will also be pet friendly and offer bike parking.
The developer has also promised to establish a shuttle system from 135 Wells Avenue to the MBTA's Green Line stop, likely in Newton Highlands.