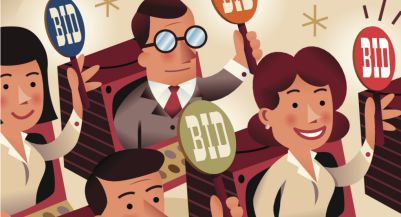 Real estate agents report that June was the second month in a row in which high competition occurred. Bidding wars within the United States were more common than expected.
Meanwhile, the 30-year fixed rate fell to 3.03%. Low mortgage rates and low inventory are fueling bidding wars. Experts describe whats taken place over the past two decades as a historical bidding war.
The most common buyers are currently renters and homeowners that have managed to keep their jobs during the pandemic. They want to take advantage of the low rates to become homeowners, or enhance their homes living space and location.
Nationwide, the number of available homes-for-sale is down by 21.3%, having the lowest inventory since 2012. Also, the number of new listings was down 12% year-over-year.
According to experts, bidding wars most likely to occur for single-family homes. 56.2% of single-family homes, 54.2% of townhomes, and 40.5% of condos faced buyers competition.
Boston experienced the highest frequency of bidding wars this past month; 72.4% of listings faced competition. It is the second straight month for the Bay state experiencing bidding wars, making Boston the most competitive market at the moment. Most competition is expected in the suburbs-- sellers are not willing to have their properties on the market for too long. Since COVID-19, homes are selling within days, creating a highly competitive environment.
The second and third most competitive markets right now are in San Diego and Salt Lake City. They face 65.7% and 63.8% competition, respectively.
On the other hand, Miami was the least competitive market in the country in the past month. Only 32.4% of available offers in the South Florida coastal city faced competition.
Remember to: Contact us here for all of your real estate needs!