A continent of disparate countries creating a hotbed of culture and history, Europe is seen by many as the center of the world. It's no coincidence that it almost always appears in the middle of world maps.
When did it all start? In the medieval times of Castles and royalty? Maybe it was the age of exploration. It doesn't really much matter because Europe is eclectic in nature, as most things are, but the special thing about Europe is that it bears so much of its past in its everyday life.
We can visit those castles, can see Vermeer's lapis lazuli, walk original cobblestone streets peppered with ancient cathedrals, even smell what Sean Maguire smelled in the Sistine Chapel.
All these parts of history coming together to form the continent we know today. In everything from bloody histories to study abroad stories, the continent's eclectic nature is clear to see on almost any scale. We even get to see that diversity in our list!
Everything from contemporary estates to historic villas, here are the ten most luxurious properties we have for sale throughout Europe!
Price Tag: $6,681,637
Nestled in the forest of Kapellen, this villa has exceptional views of the Royal Antwerp Golf Course. Incredibly modern, still in its infancy at five years old, this clean-cut behemoth sits on an expansive 100,233 square foot lot. The living area coming in at an astounding 12,163 square feet of living space still leaves a plethora of room, even when accounting for the in-ground pool. Thanks to the architect, who was no stranger to the effects of natural light in interior spaces, we have a beautiful home to start our list.
Price Tag: $7,424,040
An impressive driveway brings us through the door to the grand hall of this beach style villa. The coastal vibes are further enhanced by the ocean view, bright interior colors, and the villa's short distance from both the beach and the Ria Formosa natural park. Pool privacy is preserved by meticulously maintained and well-laid gardens. With a lot size of 41,440 square feet, and a living space of just over 5,000, the additional plot of land has full building rights and limitless potential. Five en-suite bedrooms, seven baths, this 2002 home is the perfect perch for the successful thalassophile.
Price Tag: $9,023,065
During the reign of King Matthias, the area where this villa lies was managed by the crown. These old hunting grounds are one of the most sought after residential areas in Budapest.
An environmentally friendly, modern minimalist mansion. It's fitted with vanguard tech, ranging from security, to earthquake protection, to controlling the whole compound from your smart device. Emphasis on modern, this 2015 home is state-of-the-art.
With a lot size of about 35,000, and a living space of just over 23,000, to call it spacious is an insult. Some of that space is dedicated to the spa in the basement, fit with saunas, a steam room, salt caves, solariums, and even a tepidarium.
This property is one you have to see for yourself, though, you'll only be amazed. To understand a villa like this, you'll have to experience it for yourself.
Price Tag: $10,648,405
Wrought iron and shrubbery envelop this palatial German villa. Built in 2006, 20,020 square feet of living space, upon first glance this building is undeniably impressive. More full baths than there are bedrooms, and as many indoor pools as there are kitchens, the interior is a must-see as well. Aesthetically reminiscent of Olympian gods, modernized and exemplified, especially in the pool room, this villa is hard to forget.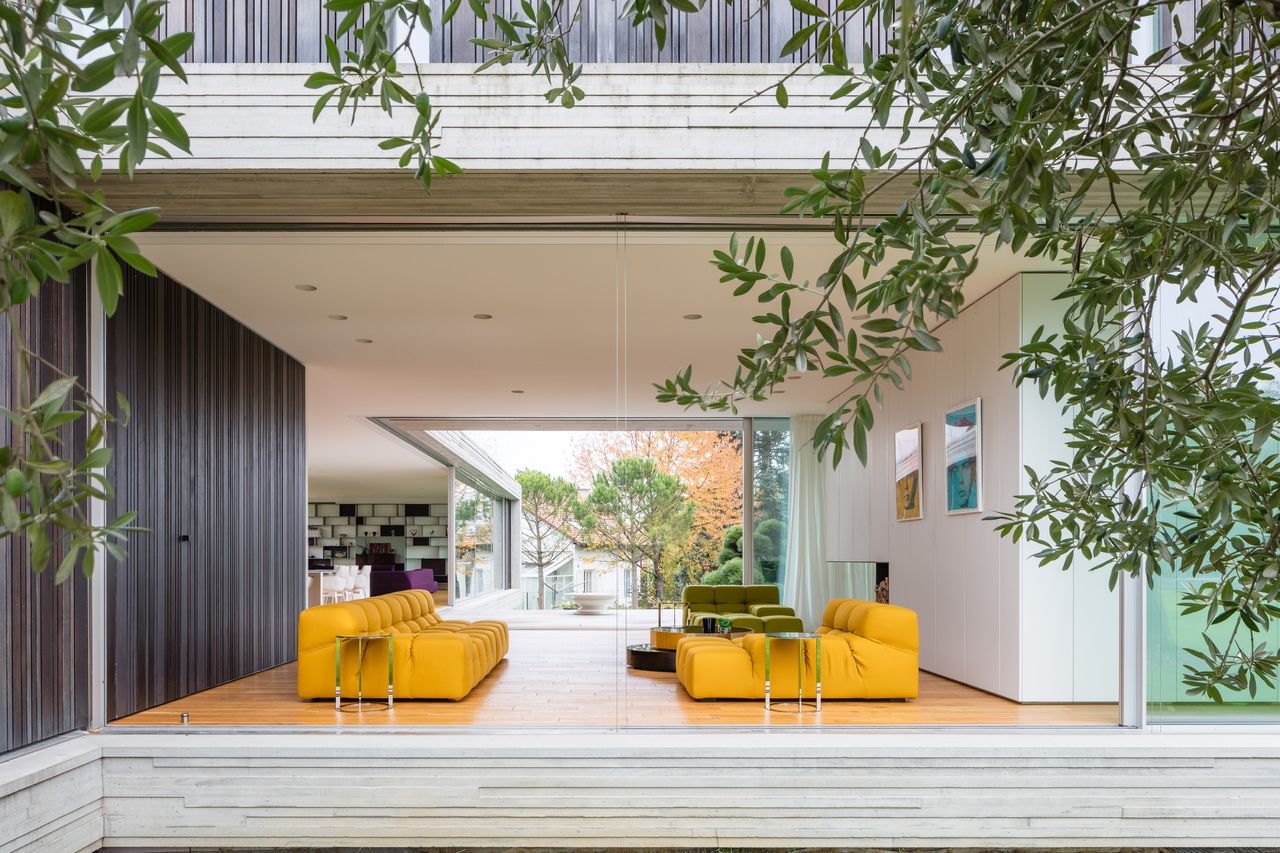 Price Tag: $15,482,000
Switzerland! Home to some of the world's best skiing, the world's best chocolate, and the best option we had for number six on this list. 5,400 square feet of living space, sitting atop 24,000 square feet of land, this home was only missing one thing. It wasn't a pool, no, it has a beautiful one of those. It was missing a homeowner, but then you came along. Once you reach out to us here at Castles, we'll be happy to help make your transition seamless and painless.
Price Tag: $20,776,445
There may not be a human alive that could argue the fact that France, home to our number five pick, is one of the most breath-taking, romantic locales on the planet. This sprawling estate, aptly named not after the biblical king, but the nine-liter large format wine bottle, is a force to be reckoned with. Dormant amongst the hills of Ramatuelle, Provencal-style and Saint-Tropez flair synthesize into this beauty.
Easy access to le Cote d'Azur, and privacy from the tourists. While it exudes a beach club feeling, upon entering it's clear that the villa is well-suited for family living as well. A two-hour drive from the nearest airport, fifteen minutes from Saint-Tropez as we know it, and five minutes from Club 55, this property is malleable. It is exactly what you need it to be.
Price Tag: $22,660,000
Two wings coming together with two styles to form this Italian villa tucked amongst the trees overlooking Lake Como. Views of the Alps, including Mont Blanc, are enough to give people their first understanding of what everyone in the know means by "the great outdoors." The south wing was built neo-Louis XV style, while the north wing boasts a modern rationalist style. Various artists, architects, and designers have their marks all over this estate; art blessing the walls and ceilings of numerous rooms.
In addition to these two wings, there's a separate villa meant for the staff needed to maintain 12,702 square feet of living space sitting on top of 269,107 square feet of land. Yes, that was typed correctly. 269,000 square feet of land. With various parts of this property resembling the more visually stunning stills from the internationally multi-award winning film "Call Me by Your Name," this is one you'll want to see.
Price Tag: $29,307,072
Built in 2017, almost 12,000 square feet of living space, this is one of the most impressive modern penthouses you'll ever see. We promise.
Price Tag: $51,074,322
If Avicii were alive today, he would agree, this equestrian territory is cool. We're positive he would have stronger words, but we're speechless. If you're into numbers, you'll love to hear that this compound boasts almost 22,000 square feet of living space. Whether you're into numbers or not, you'll be astonished to hear we called it a "territory" because it exists on 861,094 square feet of land. Imagine the potential for events! One main house, two side houses for the staff, enough room to raise around one hundred horses, a path with over one hundred olive trees, three huge terraces, plenty of wrought iron and natural stone walls, an eight car garage, and a bathing lake for the horses. In, of all places, Ibiza. You can understand our shock.
Price Tag: $59,068,115
30,000,000 square feet. Thirty million square feet.
An estate in a national park, overlooking the Warta River where we find a private marina. Europe's most well-equipped polo club, and an indoor practice facility, exist on the grounds. Tournaments are held either in the lit arena, or the other two fields. The villa also contains:
A ballroom featuring a hand painted ceiling and crystal chandeliers
A library/cigar lounge
A mahogany paneled dining room
Owner's kitchen equipped with Clive Christian furniture
A study
White marble floors in the main lobby accompanying the swimming pool
Stables for sixty horses
Glass sunroom
Summer and winter paddocks
A 1,400 square foot country-style guest house with five suites
An oak paneled tennis court of 2,800 square meters
An office building of 1,600 square meters connected to the carriage house
The main building has four floors consisting of almost 10,000 square meters. Altogether, we're looking at 14 bedrooms, 25 full baths, 15 half baths, and 40,000 square feet of living space.
It is safe to say that the biggest price tag on our list is warranted.
That concludes Our Top 10 Most Distinguished European Properties! All of these properties are available for purchase through the representation of Castles Unlimited. Please feel free to contact us with any inquiries, as we're looking forward to touring and meeting the horses.