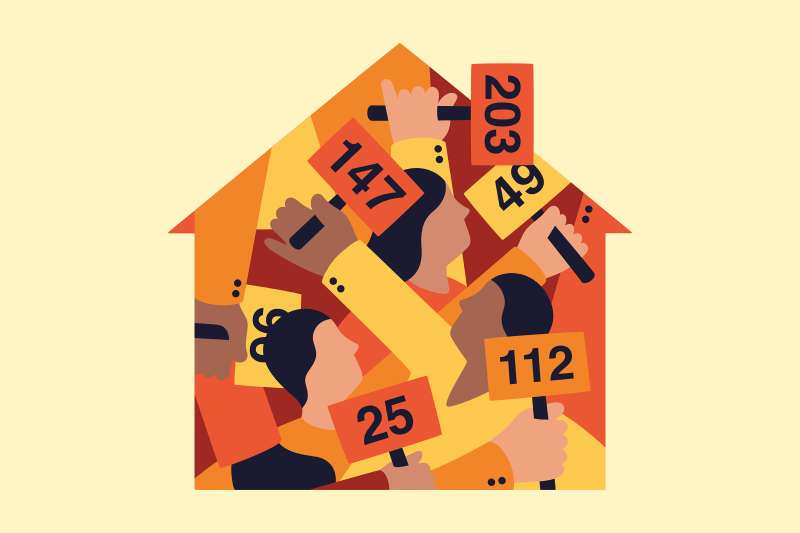 A seller's market is when the housing supply is low, and demand is high. This situation makes buyers go above and beyond to make sure their offers are better than the competition's, which causes bidding wars.
We're seeing an abundance of these lately-- especially in Boston. Although there's no guarantee you'll win, if you follow these tips, you'll have much better chances of winning the battle.
1. Up your offer as much as possible
Usually, you can better your chances by offering more money. Remember you have a budget you should stick to though. Make sure you can pay that amount, and will still have enough to cover your living expenses AND mortgage. You don't want to win a bidding war then realize you ego cost you $1.2M more than you could afford.
If you are pre-approved by a lender, you'll know your spending limit, but remember that you don't have to spend that amount. If you aim below your budget, maybe you can use the few thousand you saved to give yourself more possible moves in a bidding war.
2. If you can, put down more money
It will be very helpful if you can increase your down payment. By paying more upfront, less money is required from a lender. It'll also help if the bidding war is pushing the price beyond it's appraisal.
You can show pay stubs, tax forms, or 401 (k) balance to prove you're capable of affording the thing, and you might just secure your dream home.
3. Pay in cash
Some people should aim to pay as much as possible upfront instead of financing the property. You will avoid the need for a third party, and you gain much more control of the situation. Seller's love cash offers; they'll feel inclined to accept a cash offer of equal, or even lesser, value.
4. Always include an escalation clause
An escalation clause is a great strategy to win a bidding war. Add the clause to your offer which means that if another buyer matches your offer, you are willing to increase it by a previously estimated amount. Ask your real estate agent for help and come up with the best escalation clause, keeping in mind your budget, and make sure nobody plays you how they tried to get KG in Uncut Gems.
5. Be ready for the home inspection
Before the closing, a home inspection has to take place. Therefore, get ready to work with an inspector and make it happen ASAP. The goal is to speed up the process, which will inspire confidence in the seller about you.
6. Finally, let the seller know why you are the best option
It is pretty obvious that money is the final deciding factor in whether you get a house or not. However, it is highly recommended to remain friendly and let the seller know you really want to buy that property. Attach a letter with your offer, speak honestly, and help them see from your perspective in a way that'll influence them, well, like you. Most sellers feel emotional and have a strong connection to the property, so make sure you cover that avenue as well as the logistical (finances and inspections) side of things.
Remember, with effort, luck, and a Castles Unlimited agent, anything is possible. Make sure you contact us at Castles Unlimited today to start your home-buying process on the right foot!