1. Use darker paint on accents and doorways
A dark or fun color choice on the inside of your entry doors can add a sophisticated touch to a plain hallway. It helps to separate the space and ad character - especially if you have a lighter paint color on the surrounding walls. It also revitalizes white trim by adding contrast. If you're brave, choose a bold color that matches the entry rug to tie everything together. Check out this article on using darker paint in your home.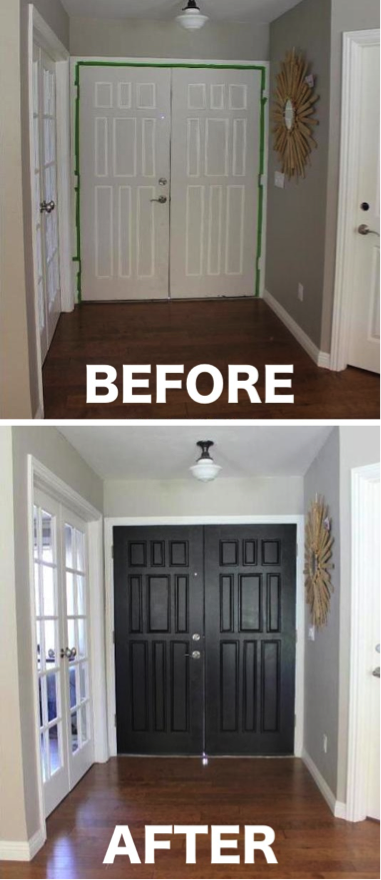 2. Add a frame to the bathroom mirror
Adding trim to a bathroom mirror can make such a difference! For a real transformation, add a shelf either in the middle of the mirror separating the two sinks or off to the side for extra stroage. It will completely revamp your bathroom and give it a personalized touch. Go check out more details about this project here.
3. Hang your curtains high and wide
Even if your windows are on the smile side, you can make them appear much larger by hanging your curtains high and wide. This creates a taller space creating the illusion of a bigger and airier room. The more pannels the better - you want your curtains to look full and luxurious. Check out the tutorial here.
4. Fireplace makeover
Fireplaces tend to be a focus point in most living spaces. Whether it sits below the TV or is decorated with photos it is the heart of the home and a makeover can make a huge difference in the feel and interior design scheme of your home. Check out this fireplace revamp that only cost $200 - the transformation is incredible.
5. Revamp your light fixtures
Replacing an old light fixture you dont like anymore can be a costly endevour. Consider instead using the light components from the original fixture and just swapping out the cover. Even something as simple as Rust-oleum paint to cover the brass will give them a nice makeover. If you want to take it a step further you can use a drum-style lamp shade (this makes the light better for larger rooms) or a Crystal Flush mount like this one from Pottery Barn.