tech
Many people, when looking to buy a house, might lean towards older homes because of their "charm" or "character". These historic homes do enhance the beauty of Brookline and Newton, and add a certain flair to the architecture of the town. But as appealing as these details may be, older homes do come with a history. It is important, when buying a home, to consider the option of a new construction.
Gone are the misconceptions that new homes are cold, uncharacteristic, homogeneous boxes built to all look alike. Today builders understand the importance of character and detail in designing a house. They are able to balance the charm of historic New England homes with the realities and functions of the way modern families live. And it's this balance that may entice you to reconsider the "new construction" home as an option.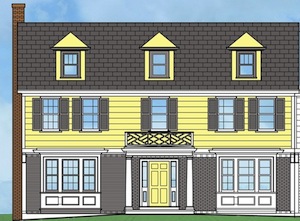 There are many advantages in buying a new construction home. For one thing, it's brand new! Everything, from the roof, to the windows, to the appliances,to the floors, has been all done. There are fewer things that are likely to be repaired. You don't have to worry about renovating the bathrooms or redoing the floors. What you see is what you get. And sometimes, if you enter the contract early enough, you may be able to make your own choices on certain finishes. From paint color, to cabinets, to tile choices, you get to customize your brand new home to your liking.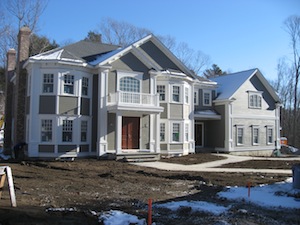 Another advantage is the energy efficiencies of new homes. Built with a combination of advanced materials, new homes often offer Energy Star appliances, better insulation, multi-pane windows, and more efficient heating and cooling systems. According to Kevin Morrow, senior program manager for the National Association of Home Builders' green-building program, the multi-paned windows are more commonly used in new construction homes because of their energy efficiencies. "These are windows that are designed to really minimize the transfer of heat either from warm to cold or vice versa."
Many may think that buying a new construction is more expensive then buying resale. But most times this is an incorrect assumption. New homes are priced in relation to cost of materials, labor, land, and a profit margin. This means their value is usually priced very close to their real market value. In the case of resale, homeowners may set their price based on outside influences (like equity needed to afford their next home, what they owe on their current home, their personal perceptions of their home, etc.) So, most times new homes are typically priced closer to their real market value than resale homes.
Safety is also a great advantage when buying a newly built home. With new construction, builders are complying with the most up-to-date building codes. Electrical systems are more accommodating to modern appliances and technologies, including high definition televisions, security systems, smoke detectors, and audio systems. And air quality is better because all the ductwork is new and the heating and cooling systems are clean.
Lastly, new construction homes are designed with the modern family in mind. With room for entertaining as a priority on most buyers' lists, most new construction homes offer an open floor plan with rooms that flow into each other, making entertaining functional and more enjoyable. High ceilings and large windows are modern trends that add a unique sense of character to the house. Storage areas are usually ample throughout the house, and most homes feature large mudrooms and laundry rooms located near the bedrooms for convenience.
Whatever the reason, new construction homes offer buyers better benefits and peace of mind. When it comes to buying a home, the last thing you need is to worry about what hidden problems will be presented to you in the upcoming months/years after you move in.
If this sounds appealing to you,
Click here for a list of new construction homes in Brookline.